Introduction
North Carolina winter weather consists of storms that produce snow, sleet, freezing rain or a wintry mix of multiple precipitation types. It is not uncommon to experience every mode of wintry precipitation in any given storm, due to the nature and atmospheric conditions that are commonly found in NC winter storms.
Along with wintry precipitation, NC winter weather also includes outbreaks of bitterly cold, Arctic air that can send overnight lows well into the teens and even single digits! Monthly average temperatures are the coldest in January. However, it is not uncommon to see these values much higher or lower depending on the weather pattern.
| City | Normal January High Temperature | Normal January Low Temperature |
| --- | --- | --- |
| Boone | 41.4°F | 21.6°F |
| Raleigh | 51.9°F | 31.8°F |
| Wilmington | 57.2°F | 36.3°F |
Above are the coldest average high and low temperatures (which occur in mid-January) for Boone (located in the mountains), Raleigh (located in the Piedmont), and Wilmington (located at the coast) which illustrates the amount of variation in temperatures across the state in winter.
Products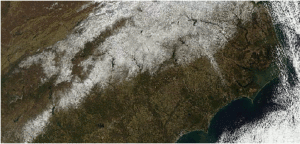 Searchable database of North Carolina winter storms that provides event details, along with links to associated weather data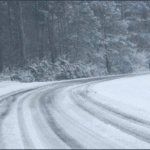 Learn about weather patterns that are favorable for winter weather for North Carolina
Resources
Contacts
For questions or technical assistance about the content or products above, please contact help@climate.ncsu.edu.